| | |
| --- | --- |
| | Summer Cinema Harvest 2013 |
SUMMER CINEMA HARVEST
July 5 – September 5, 2013

Pod Baranami Cinema presents Summer Cinema Harvest – a 9 week long 'film-tasting' extravaganza. Featuring the most interesting films made in recent years plus cinema classics. Tickets cost only 7 PLN!

The 7th edition of Summer Cinema Harvest Festival at Pod Baranami Cinema will be held between the 5th of July and the 5th of September. The programme consists of 9 thematic cycles, featuring both new and classic movies, including some of the Cinema Pod Baranami viewers' wishes. During the festival we will see both recent interesting productions (e.g. Silver Linings Playbook, Django, Lincoln, Argo) and golden classics (Fanny and Alexander, Apocalypse Now). In the repertoire we will also find great documentaries (e.g. Sugar Man, Marley, Marina Abramović: The Artist Is Present, Fuck For Forest) and selection of digitally-restored masterpieces of Polish cinema (A Short Film About Killing, Blind Chance, Salto). Certain Polish films will be screened with English subtitles. This year's edition of the festival is an opportunity to 'say goodbye' to a couple of films – on Polish screens – such as Dogville and The Great Silence because of Polish licence expiration.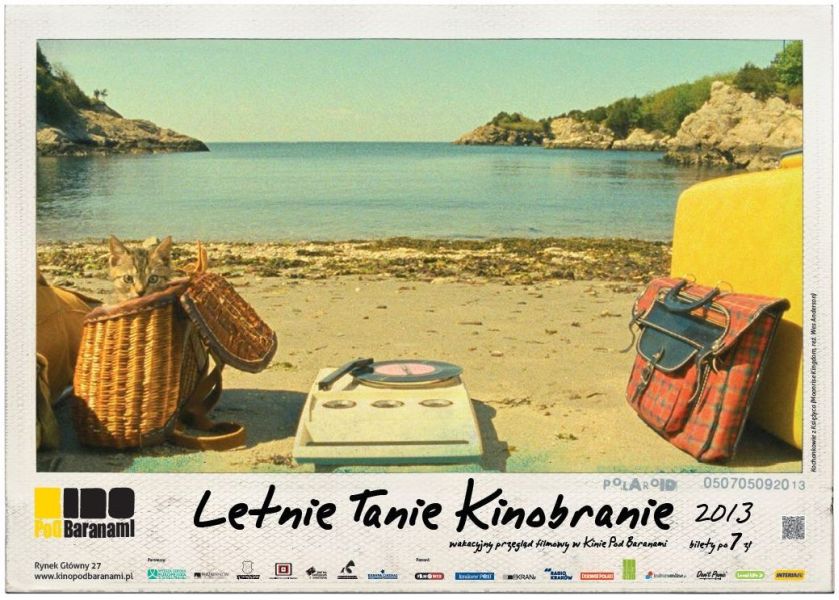 Within the scope of 'Harvest CINEMA' action, which accompanies the festival, you can watch 5 films and see the 6th one for free. During intensive Cinema Harvest you can pause for a moment and relax on the comfortable deckchairs delivered by Baronowie Leżakowi. You can also pick some movie posters from Pod Baranami Cinema's collection during 'Summer Poster Harvest' event.

FULL PROGRAMME - HERE


FILMS IN THE PROGRAMME:

1st WEEK (July 5-11) THE POWER OF SMILE
The smile is good for everything. This week will ease the stress, dry the tears. Keep smiling!

2 DAYS IN NEW YORK | 2 DAYS IN NEW YORK
dir. Julie Delpy, FR/USA/DE 2012, 91' EN/FR/IT
AND IF WE ALL LIVED TOGETHER | ET SI ON VIVAIT TOUS ENSEMBLE?
dir. Stéphane Robelin, FR/DE 2011, 96' FR/DE/CO
HAUTE CUISINE | LES SAVEURS DU PALAIS
dir. Christian Vincent, FR 2012, 105' FR
I'M SO EXCITED | LOS AMANTES PASAJEROS
dir. Pedro Almodóvar, ES 2013, 91' ES
PARIS MANHATTAN | PARIS MANHATTAN
dir. Sophie Lellouche, FR 2012, 77' FR
POPULAIRE | POPULAIRE
dir. Régis Roinsard, FR 2012, 111' FR
SEARCHING FOR SUGAR MAN | SEARCHING FOR SUGAR MAN
dir. Malik Bendjelloul, SE/GB 2012, 86' EN
SILVER LININGS PLAYBOOK | SILVER LININGS PLAYBOOK
dir. David O. Russell, USA 2012, 120' EN
QUARTET | QUARTET
dir. Dustin Hoffman, GB/USA 2012, 98' EN
THE ANGELS' SHARE | THE ANGELS' SHARE
dir. Ken Loach, GB/FR/BE/IT 2012, 106' EN
* THE BEST EXOTIC MARIGOLD HOTEL | THE BEST EXOTIC MARIGOLD HOTEL
dir. John Madden, GB 2011, 124' EN (10)
THE SESSIONS | THE SESSIONS
dir. Ben Lewin, USA 2012, 95' EN (10)
THE VIRGIN, THE COPTS AND ME | LA VIÈRGE, LES COPTES ET MOI
dir. Namir Abdel Messeeh, FR/QTR 2011, 92' AR/FR
TO ROME WITH LOVE | TO ROME WITH LOVE
dir. Woody Allen, ES/USA/IT 2012, 111' EN/IT


2nd WEEK (July 12-18) WINDOW ON THE WORLD
We open the window to know the world, see how the people live closer and further away.

* 5 BROKEN CAMERAS | 5 BROKEN CAMERAS
dir. Emad Burnat, Guy Davidi, AP/FR/IL/NL 2011, 90' HE/AR
7 DAYS IN HAVANA | 7 DÍAS EN LA HABANA
dir. Benicio del Toro, Pablo Trapero, Julio Medem, Elia Suleiman, Gaspar Noé, Juan Carlos Tabío, Laurent Cantet, FR/ES 2012, 129' ES/EN/RS
A HOUSE OF SAND AND FOG | A HOUSE OF SAND AND FOG
dir. Vadim Perelman, USA 2003, 126' EN/FA
* A SEPARATION | JODAEIYE NADAR AZ SIMIN
dir. Asghar Farhadi, Iran 2011, 123' FA
* ARGO | ARGO
dir. Ben Affleck, USA 2012, 120' EN
CHICKEN WITH PLUMS | CHICKEN WITH PLUMS
dir. Marjane Satrapi, Vincent Paronnaud, BE/FR/DE 2011, 90' FR/EN
COSMOPOLIS | COSMOPOLIS
dir. David Cronenberg, FR/CA/PT/IT 2012, 108' EN
* IMAGINE | IMAGINE
dir. Andrzej Jakimowski, PL/FR/GB/PT 2012, 105' EN
LIFE DURING WARTIME | LIFE DURING WARTIME
dir. Todd Solondz, USA 2009, 98' EN
* MARGIN CALL | MARGIN CALL
dir. J.C. Chandor, USA 2011, 107' EN
* PO-LIN. SLIVERS OF MEMORY | PO-LIN. OKRUCHY PAMIĘCI
dir. Jolanta Dylewska, PL 2008, 82' DE/PL
SAMSARA | SAMSARA
dir. Ron Fricke, USA 2011, 102' NO DIALOGUE
* SHE, A CHINESE | SHE, A CHINESE
dir. Xiaolu Guo, FR/DE/GB 2009, 99' EN/ZH
THE IMPOSSIBLE | LO IMPOSIBLE
dir. Juan Antonio Bayona, ES/USA 2012, 114' EN
* THE INTOUCHABLES | INTOUCHABLES
dir. Olivier Nakache, Eric Toledano, FR 2011, 112' FR
* THE MAID | LA NANA
dir. Sebastian Silva, CL 2009, 98' ES
WARSAW 1935 (3D) | WARSZAWA 1935 (3D)
dir. Tomasz Gomoła, PL 2013, 20' PL
* WOMEN ARE HEROES | WOMEN ARE HEROES
dir. JR, FR 2012, 85' VARIOUS
¡VIVAN LAS ANTIPODAS! | ¡VIVAN LAS ANTIPODAS!
dir. Wiktor Kossakowski, DE/NL 2011, 104' ES/EN/AB/RU/SHNG/TS

Films marked with * are presented in collaboration with Wyższa Szkoła Europejska im. ks. Józefa Tischnera in Krakow.


3rd WEEK (July 19-25) IN THE CIRCLE OF LOVE
Passion without shame and tabu. Love till the end from the spring till the autumn of life.

28 HOTEL ROOMS | 28 HOTEL ROOMS
dir. Matt Ross, USA 2012, 82' EN
A ROYAL AFFAIR | EN KONGELIG AFFÆRE
dir. Nikolaj Arcel, DK/CZ/SE 2012, 137' DA
ANOTHER WOMAN'S LIFE | LA VIE D'UNE AUTRE
dir. Sylvie Testud, FR/BE/LU 2012, 96' FR/EN
BREATH | SOOM
dir. Kim Ki-duk, KR 2007, 86' KR
CAFÉ DE FLORE | CAFÉ DE FLORE
dir. Jean-Marc Vallée, CA/FR 2011, 120' FR
DELICACY | LA DÉLICATESSE
dir. David Foenkinos, Stéphane Foenkinos, FR 2011, 108' FR
HOPE SPRINGS | HOPE SPRINGS
dir. David Frankel, USA 2012, 100' EN
EROS | EROS
dir. Michelangelo Antonioni, Steven Soderbergh, Wong Kar-Wai, HK/US/IT/FR/LU/GB 2004, 104' EN/ZH/IT
LAURENCE ANYWAYS | LAURENCE ANYWAYS
dir. Xavier Dolan, CA/FR 2011, 159' FR/EN
LES MISÉRABLES | LES MISÉRABLES
dir. Tom Hooper, USA/GB 2012, 158' EN (10)
LOVE | AMOUR
dir. Michael Haneke, FR/AT/DE 2012, 127' FR/EN
LOVE IS ALL YOU NEED | DEN SKALDEDE FRISØR
dir. Susanne Bier, DK/SE/IT/DE/FR 2012, 112' DA/EN/IT
LOVING | MIŁOŚĆ
dir. Sławomir Fabicki, PL 2012, 111' PL
SHAME | SHAME
dir. Steve McQueen, GB 2011, 101' EN
SHAMELESS | BEZ WSTYDU
dir. Filip Marczewski, PL 2011, 83' PL
TAKE THIS WALTZ | TAKE THIS WALTZ
dir. Sarah Polley, CA/ES/JP 2011, 116' EN
THE FIFTH SEASON | PIĄTA PORA ROKU
dir. Jerzy Domaradzki, PL 2012, 96' PL
THE NOTEBOOK | THE NOTEBOOK
dir. Nick Cassavetes, USA 2004, 115' EN
YOUR SISTER'S SISTER | YOUR SISTER'S SISTER
dir. Lynn Shelton, USA 2011, 90' EN


4th WEEK (July 26-August 1) THE THRESHOLD OF HELL
Hell is you and others. Hell is people, who persistently create the world's history of violence.

A HISTORY OF VIOLENCE | A HISTORY OF VIOLENCE
dir. David Cronenberg, DE/USA 2005, 96' EN
A SHORT FILM ABOUT KILLING | KRÓTKI FILM O ZABIJANIU
dir. Krzysztof Kieślowski, PL 1987, 82' PL with English subtitles
AFTERMATH | POKŁOSIE
dir. Władysław Pasikowski, PL 2012, 102' PL
BEYOND THE HILLS | DUPĂ DEALURI
dir. Cristian Mungiu, RO/FR/BE 2012, 150' RO
CAPTIVE | CAPTIVE
dir. Brillante Mendoza, PH/FR/DE/GB 2012, 120' TL/EN
DOGVILLE | DOGVILLE
dir. Lars von Trier, DK/FI/NL/NO/SE/GB/IT 2003, 178' EN
HELL | HELL
dir. Tim Fehlbaum, DE/CH 2011, 86' DE/FR
IN DARKNESS | W CIEMNOŚCI
dir. Agnieszka Holland, PL/CA/DE 2011, 145' PL/UK/YI/DE
KALIFORNIA | KALIFORNIA
dir. Dominic Sena, USA 1993, 112' EN
L.A. CONFIDENTIAL | L.A. CONFIDENTIAL
dir. Curtis Hanson, USA 1997, 132' EN
MANHUNT | OBŁAWA
dir. Marcin Krzyształowicz, PL 2012, 92' PL
NATURAL BORN KILLERS | NATURAL BORN KILLERS
dir. Oliver Stone, USA 1994, 120' EN
ROSE | RÓŻA
dir. Wojciech Smarzowski, PL 2012, 90' PL
SIN CITY | SIN CITY
dir. Robert Rodriguez, USA 2005, 124' EN
SUPERMARKET | SUPERMARKET
dir. Maciej Żak, PL 2012, 84' PL
THE CLOSED CIRCUIT | UKŁAD ZAMKNIĘTY
dir. Ryszard Bugajski, PL 2013, 119' PL
THE DEPARTED | THE DEPARTED
dir. Martin Scorsese, USA 2006, 152' EN
THE HUNT | JAGTEN
dir. Thomas Vinterberg, DK 2012, 115' DA/EN/PL
TRAFFIC DEPARTMENT | DROGÓWKA
dir. Wojciech Smarzowski, PL 2012, 118' PL
TWILIGHT PORTRAIT | PORTRET V SUMERKAKH
dir. Angelina Nikonova, RU 2011, 105' RU
WAR WITCH | REBELLE
dir. Kim Nguyen, FR/CA 2012, 90' FR/LN


5th WEEK (August 2-8) WOMEN'S SECRETS
To know the secret of women? Impossible. Anna, Barbara, Julia, Marina, Violeta - they will remain mysterious.

A VERY LONG ENGAGEMENT | UN LONG DIMANCHE DE FIANÇAILLES
dir. Jean-Pierre Jeunet, FR/USA 2004, 134' FR/DE/CO
ANNA KARENINA | ANNA KARENINA
dir. Joe Wright, GB 2012, 130' EN (10)
BARBARA | BARBARA
dir. Christian Petzold, DE 2012, 105' DE
ELLES | ELLES
dir. Małgorzata Szumowska, PL/FR/DE 2011, 96' FR/PL/EN
EVENING | EVENING
dir. Lajos Koltai, USA/DE 2007, 117' EN
IN THE BEDROOM | W SYPIALNI
dir. Tomasz Wasilewski, PL 2011, 74' PL
JULIA | JULIA
dir. Erick Zonca, FR/USA/MX/BE 2008, 138' EN/ES
LADY VENGEANCE | CHINJULHAN GEOMJASSHI
dir. Park Chan-wook, KR 2005, 112' KR/EN/JA
MARINA ABRAMOVIĆ: THE ARTIST IS PRESENT | MARINA ABRAMOVIĆ: THE ARTIST IS PRESENT
dir. Matthew Akers, Jeff Dupre, USA 2012, 106' EN
ONCE UPON A TIME THERE LIVED A SIMPLE WOMAN | ZHILA-BYLA ODNA BABA
dir. Andriej Smirnow, RU 2011, 150' RU
PARADISE: FAITH | PARADIES: GLAUBE
dir. Ulrich Seidl, AT/FR/DE 2012, 113' DE/AR
PARADISE: LOVE | PARADIES: LIEBE
dir. Ulrich Seidl, AT/FR/DE 2012, 120' DE/EN/SW
SHADOW DANCER | SHADOW DANCER
dir. James Marsh, GB/IE 2012, 101' EN
THE UNKNOWN WOMAN | LO SCONOSCIUTA
dir. Giuseppe Tornatore, IT/FR 2006, 118' IT/UK
THE WOMAN IN THE FIFTH | LA FEMME DU V-ÈME
dir. Paweł Pawlikowski, FR/PL/GB 2011, 83' EN/FR/PL
WHORES' GLORY | WHORES' GLORY
dir. Michael Glawogger, DE/AT 2011, 114' DE/FR/EN/TH/JA/ES/BN
VIOLETA WENT TO HEAVEN | VIOLETA SE FUE A LOS CIELOS
dir. Andrés Wood, CL/AR/BR 2011, 110' ES/FR/PL
WOMEN'S DAY | DZIEŃ KOBIET
dir. Maria Sadowska, PL 2012, 90' PL
ZERO DARK THIRTY | ZERO DARK THIRTY
dir. Kathryn Bigelow, USA 2012, 157' EN/AR


6th WEEK (August 9-15) BEHIND THE VEIL OF MYSTERY
How to touch what is unknown and mysterious? In great silence, we look behind the veil of mystery.

A CURIOUS CASE OF BENJAMIN BUTTON | A CURIOUS CASE OF BENJAMIN BUTTON
dir. David Fincher, USA 2008, 166' EN
BEASTS OF THE SOUTHERN WILD | BEASTS OF THE SOUTHERN WILD
dir. Benh Zeitlin, USA 2012, 92' EN
CERTIFIED COPY | COPIE CONFORME
dir. Abbas Kiarostami, FR/IT/BE 2010, 106' FR/EN/IT
CLOUD ATLAS | CLOUD ATLAS
dir. Tom Tykwer, Lana i Andy Wachowscy, HK/DE/SG/US 2012, 172' EN/ES
CUBE | CUBE
dir. Vincenzo Natali, CA 1997, 90' EN/DE
HOLY MOTORS | HOLY MOTORS
dir. Léos Carax, FR 2012, 110' FR/EN/ZH
LIFE OF PI 3D | LIFE OF PI 3D
dir. Ang Lee, USA 2012, 127' EN/TA/FR/JA/HI (10)
MY NEIGHBOR TOTORO | TONARI NO TOTORO
dir. Hayao Miyazaki, JP 1988, 86' JA
PERFECT SENSE | PERFECT SENSE
dir. David Mackenzie, GB/DE/SE/DK 2010, 92' EN
POST TENEBRAS LUX | POST TENEBRAS LUX
dir. Carlos Reygadas, MX/FR/DE/NL 2012, 120' ES/EN/FR
SALTO | SALTO
dir. Tadeusz Konwicki, PL 1965, 100' PL
STOKER | STOKER
dir. Park Chan-wook, USA/GB 2013, 99' EN (10)
THE GREAT SILENCE | DIE GROSSE STILLE
dir. Philip Gröning, FR/CH/DE 2005,164' EN/FR/LA
THE END OF TIME | THE END OF TIME
dir. Peter Mettler, CH 2012, 109' EN
THE PRESTIGE | THE PRESTIGE
dir. Christopher Nolan, USA/ GB 2006, 128' EN
THE TURIN HORSE | A TORINÓI LÓ
dir. Béla Tarr, HU/FR/DE/CH/US 2011, 146' HU/DE
VALHALLA RISING | VALHALLA RISING
dir. Nicolas Winding Refn, DK/GB 2009, 100' EN


7th WEEK (August 16-22) MEN'S GAMES
Man - avenger, man of state, father, artist, dark knight - his each face is true.

BALLROOM DANCER | BALLROOM DANCER
dir. Christian Holten Bonke, Andreas Koefoed, DK 2011, 85' EN
BLIND CHANCE | PRZYPADEK
dir. Krzysztof Kieślowski, PL 1981, 122' PL with English subtitles
CAESAR MUST DIE | CESARE DEVE MORIRE
dir. Paolo Taviani, Vittorio Taviani, IT 2012, 76' IT
DJANGO | DJANGO
dir. Quentin Tarantino, USA 2012, 165' EN (10)
HITCHCOCK | HITCHCOCK
dir. Sacha Gervasi, USA 2012, 98' EN (10)
FEAR OF FALLING | LĘK WYSOKOŚCI
dir. Bartosz Konopka, PL 2011, 90' PL
LAWLESS | LAWLESS
dir. John Hillcoat, USA 2012, 115' EN
LEBANON | LEBANON
dir. Samuel Maoz, FR/IL/DE 2009, 94' HE/AR/FR/EN
LINCOLN | LINCOLN
dir. Steven Spielberg, USA 2012, 150' EN (10)
MARLEY | MARLEY
dir. Kevin Macdonald, USA/GB 2012, 144' EN/FR/DE
MONSIEUR LAZHAR | MONSIEUR LAZHAR
dir. Philippe Falardeau, CA 2011, 94' FR/EN/AR
MR. VENGEANCE | BOKSUNEUN NAUI GEOT
dir. Park Chan-wook, KR 2002, 121' KR
MY FATHER'S BIKE | MÓJ ROWER
dir. Piotr Trzaskalski, PL 2012, 99' PL
MYSTIC RIVER | MYSTIC RIVER
dir. Clint Eastwood, USA 2003, 137' EN
ROMAN POLANSKI: A FILM MEMOIR | ROMAN POLANSKI: A FILM MEMOIR
dir. Laurent Bouzereau, GB 2011, 92' EN
THE BRAVE | THE BRAVE
dir. Johnny Depp, USA 1997, 123' EN
THE DARK KNIGHT | THE DARK KNIGHT
dir. Christopher Nolan, USA 2008, 152' EN
VULTURE | SĘP
dir. Eugeniusz Korin, PL 2012, 133' PL with English subtitles
THE ASSASSINATION OF JESSE JAMES BY THE COWARD ROBERT FORD
| THE ASSASSINATION OF JESSE JAMES BY THE COWARD ROBERT FORD
dir. Andrew Dominik, USA 2007, 160' EN - change in the programme!
We are very sorry, but due to reasons beyond our control, we are forced to withdraw the film THE ASSASSINATION OF JESSE JAMES.. from the programme of the festival.
Unfortunately, the distributor, during the festival, realized that there is no 35mm print of that film in Poland anymore. And screening is not possible with other types of prints.

Instead, we will screen:
THE BLOOD DIAMOND | THE BLOOD DIAMOND
dir. Edward Zwick, USA 2006, 138' EN/AFRIKAANS

We are very sorry for that change.


8th WEEK (August 23-29) THE TIME OF YOUTH
Maturation is difficult. Young characters - entangled in desires, sometimes deceived, always on the road.

AFTER LUCIA | DESPUÉS DE LUCIA
dir. Michel Franco, FR/MX 2012, 93' ES
BABY BLUES | BEJBI BLUES
dir. Katarzyna Rosłaniec, PL 2012, 98' PL
BROKEN | BROKEN
dir. Rufus Norris, GB 2012, 90' EN
DECEIVED | OSZUKANE
dir. Marcin Solarz, PL 2013, 92' PL
DONOMA | DONOMA
dir. Djinn Carrénard, FR 2010, 133' FR/ES
FANNY AND ALEXANDER | FANNY OCH ALEXANDER
dir. Ingmar Bergman, SE/FR/DE 1982, 188' SV/DE/YI/EN
FRANKENWEENIE 3D | FRANKENWEENIE 3D
dir. Tim Burton, USA 2012, 87' EN (10)
GHOST WORLD | GHOST WORLD
dir. Terry Zwigoff, DE/GB/USA 2001, 111' EN
GOOD BYE, TILL TOMORROW | DO WIDZENIA, DO JUTRA
dir. Janusz Morgenstern, PL 1960, 80' PL with English subtitles
KLIP | KLIP
dir. Maja Miloš, RS 2012, 100' SR
MOONRISE KINGDOM | MOONRISE KINGDOM
dir. Wes Anderson, USA 2012, 94' EN
ON THE ROAD | ON THE ROAD
dir. Walter Salles, FR/BR 2012, 137' EN/FR
SHE MONKEYS | APFLICKORNA
dir. Lisa Aschan, SE 2011, 84' SV
SPRING BREAKERS | SPRING BREAKERS
dir. Harmony Korine, USA 2012, 92' EN
VELVET GOLDMINE | VELVET GOLDMINE
dir. Todd Haynes, GB/USA 1998, 123' EN
YOU ARE GOD | JESTEŚ BOGIEM
dir. Leszek Dawid, PL 2012, 123' PL
YUMA | YUMA
dir. Piotr Mularuk, CZ/PL 2011, 120' PL


9th WEEK (August 30-September 5) ONE STEP AWAY FROM MADNESS
There is just one step between sanity and madness. Sometimes it's difficult to notice, when one gets to the other side.

7 PSYCHOPATS | 7 PSYCHOPATS
dir. Martin McDonagh, GB 2012, 109' EN
ALPS | ALPEIS
dir. Giorgos Lanthimos, Grecja 2011, 93' EL/EN
APOCALYPSE NOW. REDUX | APOCALYPSE NOW. REDUX
dir. Francis Ford Coppola, USA 1979, 197' EN
ARIRANG | ARIRANG
dir. Kim Ki-duk, KR 2011, 100' KO
FUCK FOR FOREST | FUCK FOR FOREST
dir. Michał Marczak, PL/DE 2012, 85' EN/DE/ES/NO
GRAVEDIGGER | A SÍRÁSÓ
dir. Sándor Kardos, HU 2010, 85' HU
HEADSHOT | HEADSHOT
dir. Pen-ek Ratanaruang, TH 2011, 105' TH
REALITY | REALITY
dir. Matteo Garrone, IT/FR 2012, 116' IT
SIDE EFFECTS | SIDE EFFECTS
dir. Steven Soderbergh, USA 2013, 106' EN
THE MACHINIST | THE MACHINIST
dir. Brad Anderson, ES 2004, 90' EN
THE MASTER | THE MASTER
dir. Paul Thomas Anderson, USA 2012, 137' EN
WRONG | WRONG
dir. Quentin Dupieux, USA 2012, 94' EN


TICKETS only 7 PLN!

With the exception of THE PERFECT TEN
(10 hits for 10 PLN each) marked with (10)



PARTNERS:








MEDIA PATRONS: