On our screens
December 1 - December 7, 2023:
HOW TO HAVE SEX | HOW TO HAVE SEX
(Molly Manning Walker) GB 2023, 98'
(in English with Polish subtitles)




Three British teenage girls go on a rites-of-passage holiday - drinking, clubbing and hooking up, in what should be the best summer of their lives.

KILLERS OF THE FLOWER MOON | CZAS KRWAWEGO KSIĘŻYCA
(Martin Scorsese) US 2023, 206'



At the turn of the 20th century, oil brought a fortune to the Osage Nation, who became some of the richest people in the world overnight. The wealth of these Native Americans immediately attracted white interlopers, who manipulated, extorted, and stole as much Osage money as they could before resorting to murder. Based on a true story and told through the improbable romance of Ernest Burkhart (Leonardo DiCaprio) and Mollie Kyle (Lily Gladstone), Killers of the Flower Moon is an epic western crime saga, where real love crosses paths with unspeakable betrayal.
NAPOLEON | NAPOLEON
(Ridley Scott) GB/US 2023, 158'
(in English with Polish subtitles)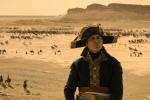 The film takes a personal look at Napoleon Bonaparte's origins, and his swift, ruthless climb to emperor viewed through the prism of his addictive, and often volatile, relationship with his wife and one true love, Josephine.
NO BEARS | KHERS NIST
(Jafar Panahi) IR 2022, 106'
(in Persian and Azerbaijani with Polish and English subtitles)




Jafar Panahi, the indefatigable filmmaker, never loses his vigor and continues his guerrilla warfare against the Iranian regime. Navigating the familiar borderlands between fiction and documentary, he spares no one, not even his own environment or himself. In No Bears, Panahi reveals how, from the perspective of the Iranian provinces, isolated from his crew and communicating with them solely through the internet (as the director is still formally banned from making films), he oversees the production of a new project. Panahi tries to put on a brave face and endure discomfort, believing that by staying away from Tehran, he can seek refuge from the watchful eye of authority. However, the artist's wishful thinking succumbs to the harsh realities, and the atmosphere surrounding his politically engaged melodrama grows increasingly tense. The titular bears serve as the immediate source of tension, but it is the ideological disputes, in which Panahi himself becomes entangled, that prove far more dangerous. The intensity of these experiences significantly impacts the director, who poses the question of whether fiction can still help us come to terms with an increasingly terrifying reality.

SMOKE SAUNA SISTERHOOD | SMOKE SAUNA SISTERHOOD
(Anna Hints) ES/FR/IT 2023, 89'
(in Estonian with Polish and English subtitles)




In the darkness of a smoke sauna, women share their innermost secrets and intimate experiences, washing off the shame trapped in their bodies and regaining their strength through a sense of communion.
THE PEASANTS
|
CHŁOPI
(DK Welchman, Hugh Welchman) PL/SE/LT 2023, 115'
(in Polish with English subtitles)
Against the backdrop of the seasonal changes and field work, the fates of the Boryna family and the beautiful and mysterious Jagna are at play. Women, especially the tragic character of Jagna, will take centre stage in the plot. The unique microcosmos of a village community will prompt a universal and incredibly up-to-date story. A story about tragic love and living in a small community where brutal game rules determine one's position within the group, while stepping outside this small box may mean humiliation and rejection.
You can also watch films on our online platform: www.e-kinopodbaranami.pl.
ABOUT KINO POD BARANAMI - read HERE