On our screens
from June 24 to June 30, 2022:
AHED'S KNEE | HA'BERECH
(Nadav Lapid) Fr/IL/DE 2021, 109'
An Israeli filmmaker throws himself in the midst of two battles doomed to fail: one against the death of freedom, the other against the death of a mother.
DOWNTON ABBEY: A NEW ERA | DOWNTON ABBEY: A NEW ERA
(Simon Curtis) US/GB 2022, 125'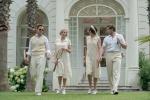 Follow-up to the 2019 feature film in which the Crawley family and Downton staff received a royal visit from the King and Queen of Great Britain.
ELVIS | ELVIS
(Baz Luhrmann) AU/US 2022, 159'
A look at the life of the legendary rock and roll star, Elvis Presley.
THE DAY I FOUND A GIRL IN THE TRASH
| DZIEŃ, W KTÓRYM ZNALAZŁEM W ŚMIECIACH DZIEWCZYNĘ
(Michał Krzywicki) PL 2022, 98'
In the near future, the indifferent activist announces that he will commit suicide at midnight on New Year's Eve in protest against the reigning slavery in Poland. His plan is questioned when he finds an abandoned slave girl in the garbage and decides to help her regain her freedom.
TOP GUN MAVERICK | TOP GUN MAVERICK
(Joseph Kosinski) US/CX 2022
After more than thirty years of service as one of the Navy's top aviators, Pete Mitchell is where he belongs, pushing the envelope as a courageous test pilot and dodging the advancement in rank that would ground him.


You can also watch films on our online platform: www.e-kinopodbaranami.pl.
ABOUT KINO POD BARANAMI - read HERE