Baranki For Kids
BARANKI FOR KIDS - kids' film screenings for English-speaking audience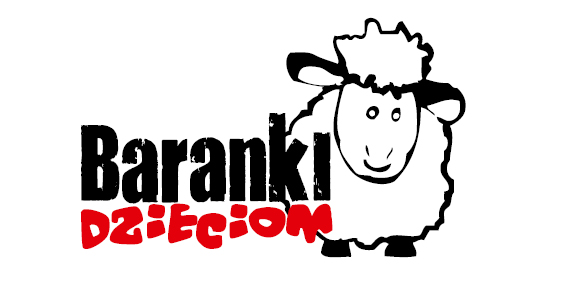 Baranki For Kids
at
Pod Baranami Cinema
is a cycle of
weekend film screenings for kids
. We invite
young English-speaking Cracovians
to attend our special screenings of Polish animation as well as art and music workshops.
We will celebrate Mother's and Father's Day as well as
Children's Day
- when after the show each child will get a free gift and take part in plays led by Famiga.
Baranki For Kids
is also a unique opportunity to learn something about the mysteries of cinematic technology. After the screening children will be invited to take part in a
guided tour around our projection room
:-)
For participants there are
special discounts
at
Rodzinka Cafe
(ul. Floriańska 15) and gifts given by
CzasDzieci.pl
and
Zakamarki publishing house
. Baranki's Facebook page:
HERE
.
TICKETS: only 10 PLNPROGRAMME:Saturday, May 11, 11 a.m.
FIRST TIME IN THE CINEMA:
REKSIO
- set of animation, no dialogue, 40'
+ drum workshops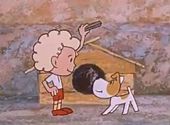 For the first
Baranki For Kids
screening we chose
REKSIO
- a classic animated series about the adventures of a small, patchy dog who lives in a rural backyard, loved by Polish kids.
After the screening children will be able to participate in
drum workshops
.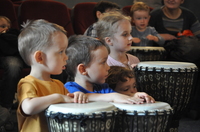 (
see other pictures below
)
REKSIO THE TELEVIEWER
|
REKSIO TELEWIDZ
dir. Edward Wątor, Poland 1972
Little dog Reksio is fascinated by the adventures of Bolek and Lolek - characters from a Polish cartoon - and becomes a passionate TV viewer.
REKSIO THE SPACEMAN
|
REKSIO KOSMONAUTA
dir. Lechosław Marszałek, Poland 1972
Little dog Reksio is dreaming about a great doggy trip into outer space.
REKSIO THE MALE NURSE
|
REKSIO PIELĘGNIARZ
dir. Lechosław Marszałek, Poland 1973
Little dog Reksio takes care of an injured mongrel who had a car accident. The mongrel takes advantage of Reksio's kindness even when he gets well. Reksio teaches him a lesson.
REKSIO THE PAINTER
|
REKSIO MALARZ
dir. Marian Cholerek, Poland 1973
Little dog Reksio decides to be a painter. He paints a realistic picture, which after heavy rain turns into abstract art. This new painting makes Reksio famous.
Saturday, May 25, 11 a.m.

IN THE CINEMA WITH MUM
FUN WITH BENNY & LENNY
|
ZABAWY BOLKA I LOLKA

-
set of cartoons, no dialogue, 47'
+ MOVE YOUR BODY AND HAVE FUN: ACTIVITIES FOR CHILDREN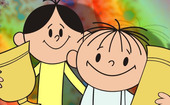 One of the best-known and favorite of all times Polish cartoons. The series follows the story of two young brothers (Benny - Bolek and Lenny - Lolek) and their fun and sometimes silly adventures which often involve spending a lot of time outdoors. They first appeared in an animated film in 1963.
THE LITTLE FILMMAKERS
|
MALI FILMOWCY
dir. Józef Byrdy, Poland 1976
Bolek and Lolek arrange a small film studio in a shed. Their girl-friend Tola joins them. Unexpected events spoil every scene they have prepared, so the film crew is forced to stop shooting.
THE INCREDIBLE DISCOVERY
|
NIEZWYKŁE ODKRYCIE
dir. Zdzisław Kudła, Franciszek Pyter, Poland 1975
Bolek and Lolek find a pot filled with old coins. A thief steals them but boys get the treasure back and place it in a museum.
THE ANIMAL CAREGIVERS
|
OPIEKUNOWIE ZWIERZĄT
dir. Romuald Kłys, Polska 1976
Bolek and Lolek go sledding in the forest and they help hungry and cold animals.
THE ARMY MARCHES ON
|
MASZERUJE WOJSKO
dir. Wacław Wajser, Poland 1976, 9'58"
Bolek and Lolek are watching soldiers. Fascinated by what the troops are doing, the boys decide to imitate them. Their play with a parachute ends near the waterfall. Fortunately, soldiers show up and save the boys from trouble.
GO-KARTS
|
GOKARDY
dir. Marian Cholerek, Poland 1975
Bolek and Lolek are constructing go-karts. After many adventures and sebacks, they manage to participate in a race and win.
Saturday, June 1, 11 a.m.
CHILDREN'S DAY with FAMIGA
CARTOONS SCREENING, PLAYS AND GIFTS FOR EVERYONE
HIP HIP & HURRA - set of cartoons
, with ENG subtitles, 40'
created by Elżbieta Wąsik, Poland 2010-2011
+ detective plays with Famiga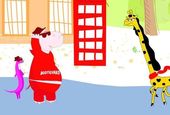 Educational action-comedy series. Duo of detectives Hip-Hip (a Hippopotamus) and his assistant Hurray (a weasel) solves different mysteries in town while Hip-Hip has a crush on his neighbor Rose, the painter Giraffe.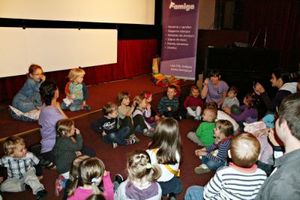 (fot. Anna Dudzik, Children's Day with Famiga 2012)
Saturday, June 22, 11 a.m.
IN THE CINEMA WITH DAD
THE STRANGE ADVENTURES OF MATOŁEK THE BILLY-GOAT
|
DZIWNE PRZYGODY KOZIOŁKA MATOŁKA
- set of animation, 40'
+ PLAYING WITH SALT DOUGH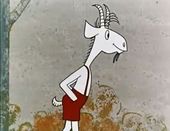 Classic cartoon based on a novel by Kornel Makuszyński. The main character, Matołek the Billy Goat, travels all around the world in search of legendary city of Pacanów, where - according to the goat beliefs - the blacksmiths are so clever, that they can shoe goats, so that they can walk with dignity. Along the way, he has various adventures.
UNDER THE PYRAMIDS
|
POD PIRAMIDAMI
dir. Ryszard Słapczyński, Poland 1970
IN SEARCH OF FRIENDSHIP
|
W POSZUKIWANIU PRZYJAŹNI
dir. Stefan Szwakopf, Poland 1971
HEAT
|
UPAŁ
dir. Bogdan Nowicki, Poland 1971
RACE
|
RAJD
dir. Piotr Paweł Lutczyn, Poland 1969
KINO POD BARANAMI - KID'S FRIENDLY PLACE


Last year
Kino Pod Baranami
was appreciated by our young audience's parents and awarded
the 'Kids Friendly Place' title
for the
sixth time
.
It is a great honour for us and also a guarantee for your kids, that they are for us as important as adult viewers!
PARTNERS
: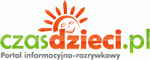 MEDIA PARTNERS: