| | |
| --- | --- |
| | New Year's Eve Film Night 2017/2018 |
NEW YEAR'S EVE FILM NIGHT 2017/2018
Saturday, December 31st, 2017, 9.30 p.m.
Kino Pod Baranami presents New Year's Eve Film Night! Come see a remarkable coming-of-age story in Greta Gerwig's Lady Bird; Downsizing - an insightful satire by Alexander Payne and a fascinating portrayal of an infamous filmmaker in The Disaster Artist directed by James Franco. At midnight - a glass of sparkling wine.
The night in Kino Pod Baranami will begin with a preview screening of a directorial debut by Greta Gerwig, known for her roles in Frances Ha and Maggie's Plan. Based on the director's own experience, Lady Bird tells a story of an artistically-inclined, rebellious teenager, who is in constant battle with her strong and independent mother. With the exquisite performances by Golden Globe nominees Saoirse Ronan and Laurie Metcalf, Gerwig created an amazingly honest picture of a relationship, that shapes most of our lives. Lady Bird has been the first film production in history to receive 100 percent positive reviews on Rotten Tomatoes and since its premiere has become a worldwide sensation.
Another preview screening that night will be Downsizing, a comedy-drama by Alexander Payne, the creator of such films as The Descendants and About Schmidt. This time, he takes the audience into the future, to a world where people shrink their bodies hoping to get a better life in exchange. A procedure designed to solve the problem of overpopulation is being used as way to achieve wealth and lead a comfortable life. The film stars Matt Damon and Kristen Wiig, accompanied by Christoph Waltz, Jason Sudeikis and Alec Baldwin.
The evening will end with a film encapsulating love for the cinema itself. James Franco (127 hours, Palo Alto), not only stars in but also directed The Disaster Artist. He plays an infamous filmmaker Tommy Wiseau, an inexperienced but enthusiastic creator of the legendary film The Room. The passion of Wiseau and his whole crew seeps through every single shot of The Room and to this day is getting the film more and more new fans. Based on the book of an actor and Wiseau's friend, Greg Sestero, The Disaster Artist has already received two Golden Globe nominations and ten other film awards. Apart from James Franco, the audience will see performances by his brother Dave, as well as Seth Rogen and Alison Brie.
Snacks, as well as cold and hot drinks will be on sale all night. Between the screenings the viewers will be able to win prizes in special quizes and at midnight they will welcome the New Year with a toast.
All films will be presented in original (English) version with Polish subtitles.
START: 9.30 p.m.
TICKETS: 119 zł

Tickets available at Cinema's cash desk and online.
ABOUT THE FILMS:
LADY BIRD | LADY BIRD
dir. Greta Gerwig, USA 2017, 93'
Polish premiere: March 2, 2018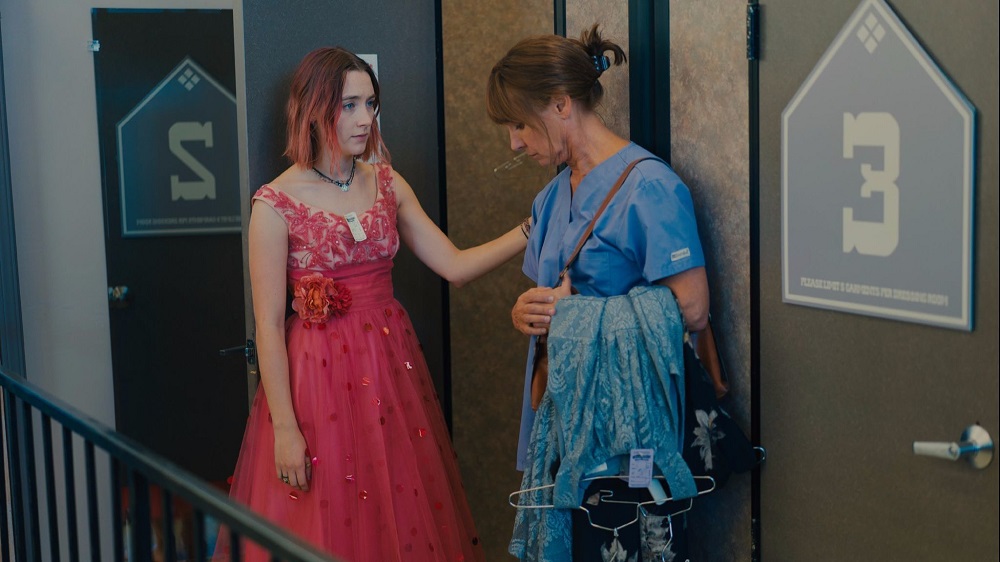 Golden Globes 2018: 4 nominations - Best Screenplay - Motion Picture, Best Performance by an Actress in a Motion Picture - Musical or Comedy (Saoirse Ronan), Best Performance by an Actress in a Supporting Role in a Motion Picture (Laurie Metcalf), Best Motion Picture - Musical or Comedy
American Film Institute Awards 2017: Movie of the Year
Gotham Independent Awards 2017: Best Actress (Saoirse Ronan)
Christine "Lady Bird" MacPherson is a high school senior from the "wrong side of the tracks." She longs for adventure, sophistication, and opportunity, but finds none of that in her Sacramento Catholic high school. Lady Bird follows the title character's senior year in high school, including her first romance, her participation in the school play, and most importantly, her applying for college. All of the above create give more and more reasons for an ongoing fight between her and her hard-working, strong-willed mother.
Set in Sacramento, California in 2002, amidst a rapidly shifting American economic landscape, Lady Bird is an affecting look at the relationships that shape us, the beliefs that define us, and the unmatched beauty of a place called home.
DOWNSIZING | DOWNSIZING
dir. Alexander Payne, USA 2017, 135'
Polish premiere: January 12, 2018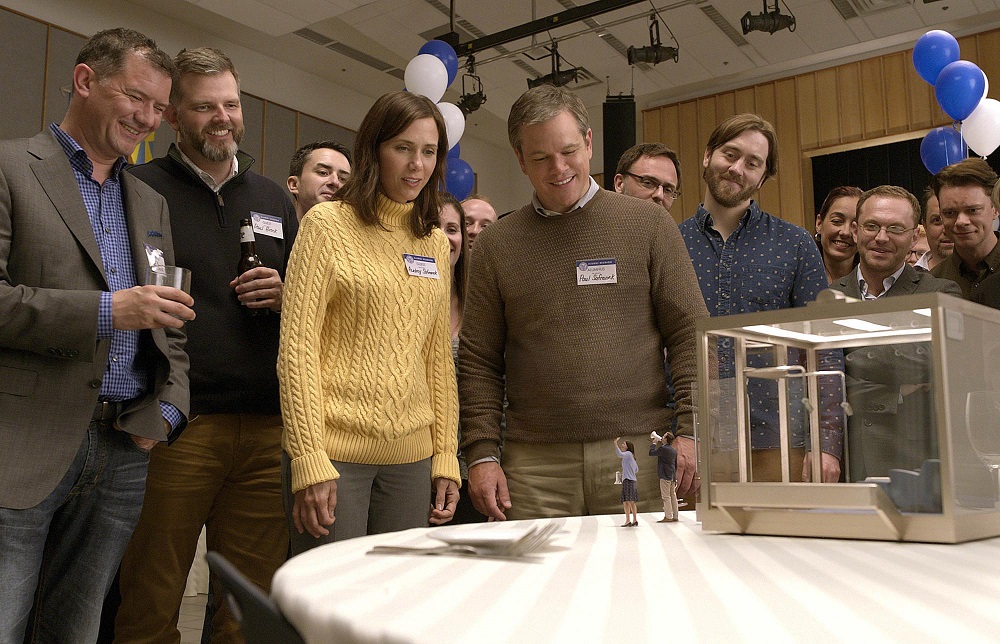 Venice Film Festival 2017: Main Competition
National Board of Review Award 2017
Downsizing follows the adventures of Paul Safranek (Damon), an everyman from Omaha who, along with his wife Audrey (Wiig), dreams of a better life. As the world faces an overpopulation crisis, scientists develop a radical solution that can shrink humans to five inches tall. People soon discover how much further money goes in a smaller world, and with the promise of a lavish lifestyle beyond their wildest imaginations, Paul and Audrey decide to risk the controversial procedure and embark upon an adventure that will change their lives forever.
THE DISASTER ARTIST | THE DISASTER ARTIST
reż. James Franco, USA 2017, 103'
Polish premiere: February 9, 2018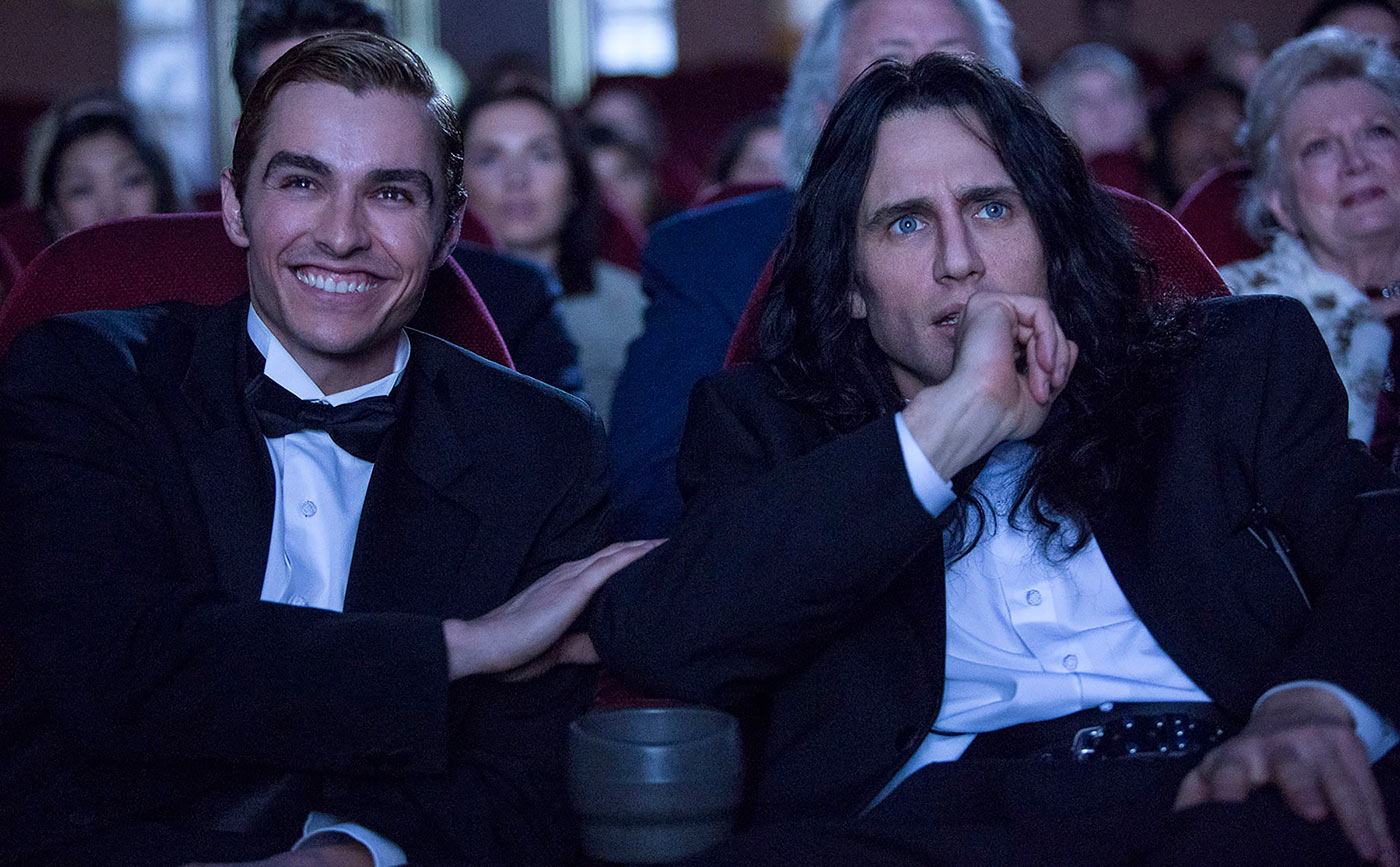 Golden Globes 2018: 2 nominations - Best Motion Picture - Musical or Comedy, Best Performance by an Actor in a Motion Picture - Musical or Comedy (James Franco)
San Sebastián IFF 2017: Best Motion Picture
Gotham Awards 2017: Best Actor (James Franco)
National Board of Review Awards 2017:Best Adapted Screenplay (Michael H. Weber, Scott Neustadter)
Real story of a starting filmmaker and Hollywood's enfant terrible Tommy Wiseau - an artist who realised his passion in a rather curious way.
James Franco (director and the main star) created a tribute to friendship, free artistic expression and following one's dreams against all odds. The Disaster Artist is based on a bestselling book by Greg Sestero, describing the process of creating the best "bad movie" in the world - Tommy Wiseau's The Room. This unbelievable and funny story proves that a person can become a legend for even the least obvious reasons.
FILM TRAILERS: