| | |
| --- | --- |
| | Trainspotting (1996) - special screening |
(Image courtesy of Park Circus/Film 4)
TRAINSPOTTING (1996),
a psychedelic trip to Edinburgh
at Kino Pod Baranami
Friday, March 3, 2017, 7.15 p.m.

The only screening of the Trainspotting in Krakow will take place in Kino Pod Baranami on the 3rd of March. Considered to be a generational manifesto, legendary work of Danny Boyle from 1996 starring Ewan McGregor will be screened on the occasion of the premiere of T2: Trainspotting in Poland.
Right before the premiere of the film T2: Trainspotting, the viewers of Kino Pod Baranami will have a chance to see the first part of the famous Danny Boyle's series, which hasn't been shown in cinemas for years. Trainspotting is an anarchistic, pulsating with musical energy film adaptation of a novel written by Irvine Welsh, telling a story of a group of young people living in Edinburgh in the 80s. This low-budget, independent film soon became a phenomenon of modern popculture (not only in Great Britain), and even though it premiered 20 years ago, the film's power to influence people hasn't decreased since.

Thanks to this - full of dark humour - indie production, Danny Boyle has become one of the most well-known British directors and the screenplay received a BAFTA award and an Oscar nomination. Trainspotting has also opened new doors for the main star, Ewan McGregor, accompanied on screen by Ewen Bremner, Jonny Lee Miller and Robert Carlyle The incredible soundtrack of the film includes songs by such artists as: Blur, Primal Scream, Lou Reed and Iggy Pop.
Second part of the series, the film T2: Trainspotting, based on another book by Welsh called Porno, premieres at Kino Pod Baranami on March 3rd, 2017.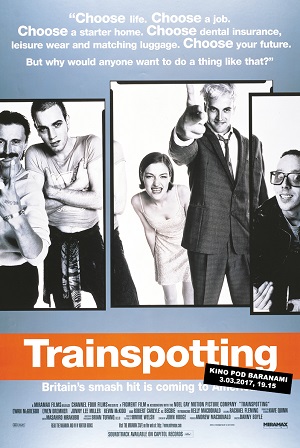 Friday, March 3, 2017
19.15 TRAINSPOTTING | TRAINSPOTTING
dir. Danny Boyle, Great Britain 1996, 93'
TICKETS:
25 PLN

* T2: Trainspotting - screening schedule and ticket prices available at www.kinopodbaranami.pl
ABOUT THE FILM:

TRAINSPOTTING | TRAINSPOTTING
dir. Danny Boyle, Great Britain 1996, 93'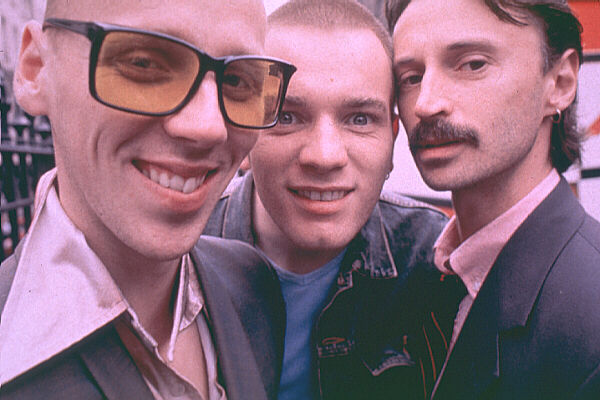 Oscars 1997: nomination for the best adapted screenplay (John Hodge)
BAFTA 1997: best adapted screenplay (John Hodge)
Mark Renton is not interested in leading a 'decent' life. Instead of a career, a family or watching TV he chooses drug-induced constant partying. He has his best friends by his side: crazy Begbie, the womanizer Sick Boy, not-so-smart Spud and Diane - who comes from a so called 'good home'. One day, Renton decides to leave his past behind and become a proper citizen. However, his friends do not intend to help him on his new path.
This stylish, full of dark humour and enormous energy picture has been recently called the best British film of the last 25 years.



TRAILER: