| | |
| --- | --- |
| | Special screening of Krzysztof Kieslowski's documentaries |
SPECIAL SCREENING OF KRZYSZTOF KIESLOWSKI'S DOCUMENTARIES
with Jerzy Stuhr in attendance
- the films will be shown with English subtitles!
Tuesday, March 15, 2016, 6.00 p.m.




At the 56th Krakow Film Festival (29 May - 5 June), there will be held the retrospective of documentary films by one of the greatest directors in the history of Polish cinema, Krzysztof Kieślowski. As a part of celebrating the 20th anniversary of his death, as soon as in March, there will be a special screening of the artist's films in co-operation with Kino Pod Baranami, featuring Jerzy Stuhr.

On March 15, at 6 p.m. in Kino pod Baranami, some of the most famous films by Kieślowski will be shown, namely, Talking Heads, and Camera Buff.

"We have chosen key films, which are still extremely up-to-date, even though they were made in a radically different political reality. Both human dreams and ethical problems of artists are timeless and universal. After a brilliant career of documentary film-maker, Kieślowski turned to feature film. We want to show this moment and its causes", explains Krzysztof Gierat.


TALKING HEADS
dir. Krzysztof Kieślowski, Poland 1980, 14'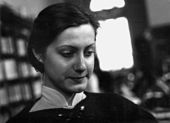 Famous and last documentary film by Kieślowski. A peculiar portrait of Poles, which gets revealed during the interview-survey made by the author. In front of Kieślowski's camera, several dozen people of different ages, different social status, answer a couple of simple questions about themselves and talk about their dreams.

CAMERA BUFF
dir. Krzysztof Kieślowski, Poland 1979, 117'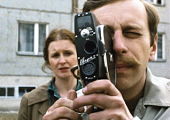 One of the most important films included in the "cinema of moral anxiety" movement. The film's protagonist, Filip Mosz , buys an amateur camera in order to film his newborn daughter. Soon, he begins to record also events in his workplace, and he gives himself totally to his new passion, regardless of consequences.


The accompanying meeting with Jerzy Stuhr, the co-author of the dialogues and the lead actor in Camera Buff, the actor in other works by the director and the producer of the film Big Animal, based on the script by Kieślowski, will be hosted by Krzysztof Gierat, the president of Krakow Film Festival.

Q&A session (in Polish) with Jerzy Stuhr in attendance will be held in the Red Auditorium only. The session will be transmitted live in the Blue Auditorium.


TICKETS:
18 PLN (regular)
14 PLN (discount/senior citizen)


Join our Facebook event: HERE .


A retrospective of documentary films by Krzysztof Kieślowski

At the 56th Krakow Film Festival, in a special series, about a dozen extraordinary documentary films will be shown, made by Kieślowski in 1970s. Among them, there are outstanding films awarded in Krakow, among others, the winners of the Festival's Grand Prix: From a Night Porter's Point of View, Seven Women of Different Ages, Hospital, and First Love.

A detailed programme of the retrospective will be published on the website www.krakowfilmfestival.pl in April.