| | |
| --- | --- |
| | Kinoklasyka - Everything for Sale |
KINOKLASYKA: EVERYTHING FOR SALE
- digitally remastered Polish classics with English subtitles
June 19 2014, 7.15 p.m.

Cinema Pod Baranami invites English-speaking audience to a screening of digitally remastered Polish film Everything For Sale. The movie by famous Polish director, Andrzej Wajda will be shown with English subtitles. The screening will take place on June 19, at 7 p.m. and will be preceded by a short documentary Jazz Camping by Bogusław Rybczyński.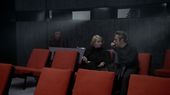 One of the impulses to make Everything For Sale film by Andrzej Wajda was the tragic death of a great Polish actor, Zbigniew Cybulski. Wajda tells about a loss of a friend - for himself and entire Polish cinema - using film language.

The movie shows a community of people connected with film business. Film fiction mixes with reality here. A group of great Polish actors, including Beata Tyszkiewicz, Daniel Olbrychski, Elżbieta Czyżewska, Bogumił Kobiela appear in the movie with their real names; they say what they really want to tell. Everything For Sale is a story about a man who unexpectedly passed away. His death forces others to reflect on who he was, what he left behind, what remains in the memory of those who loved him and those who admired him from afar.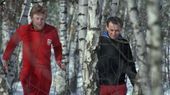 Kinoklasyka is a series of the best and most important Polish films which are shown after the digital reconstruction and come with complementary documents in quality allowing for a full commitment to the spirit and virtuosity of artists. Those cyclical screenings of masterpieces of Polish cinema which take place at the Cinema Pod Baranami are often accompanied by lectures by film experts and critics gathered around the 'EKRANy' magazine.


PROGRAMME:

EVERYTHING FOR SALE | WSZYSTKO NA SPRZEDAŻ
dir. Andrzej Wajda, Poland 1968, 100' (in Polish with English subtitles)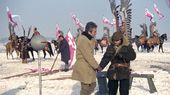 The movie tells the story of making a film of the same title. The actor playing the lead role did not come to the movie set. The search is being started, involving his loved ones - his wife Elizabeth, Beata, a former love (the director's current wife) and Daniel, young actor, who admires him. Soon they received a message that the man died jumping out of a speeding train. The former script can no longer be pursued - instead, the crew comes up with an idea of ​​a personal story about the deceased and the role he played in their lives.


JAZZ CAMPING | JAZZ CAMPING
dir. Bogusław Rybczyński, Poland 1959, 9' (without English subtitles)

Short documentary of the first edition of Jazz Camping - event that brings together jazz performers, and takes a place in Kalatówki, Zakopane (South Poland). They hiking in the mountains together, make rehearsals, and in the evenings they play jam sessions in different configurations. The inauguration of Jazz Camping in the capital of Polish Tatra Mountains gathered an elite of Polish jazz music - Krzysztof Komeda, Zbigniew Namysłowski, Jan Ptaszyn Wróblewski, Andrzej Trzaskowski or Wojciech Karolak, as well as many people from the film world - Roman Polański, Barbara Kwiatkowska, Teresa Tuszyńska. Film shows the artistic atmosphere of the late 50s.


TICKETS:
17 PLN (regular)
13 PLN (discount)
12 PLN (senior)


PARTNERS: